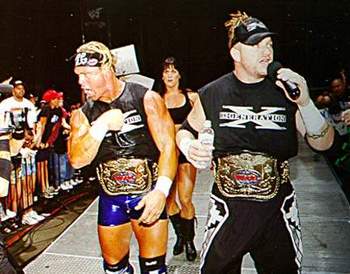 "Oh you didn't know? Well your ass better call somebody!"
Those
Dallas Stars. To make matters even more interesting picture this: Who was the worst OT/SO team in the NHL last year? Dallas. Who is 1-0 in OT and 1-0 in a shootout thus far? Dallas. Who is the only NHL team not to win 3 games in a row last season? Dallas. Sure Toronto was the last team to accomplish the feat, but do you know how bad it feels to be behind Toronto in something (hint: pretty f-in bad)? Who is the team that only won 3 of 12 back-to-back games last year? Dallas. It's like we actually turned shit around, eh folks? Not so fast...
Let's be honest, this has nothing to do with an improvement in the Dallas defense this year (3 goals vs the insane 1st line of the New Jersey Devils is tolerable, but 4 goals to a make-shift New York Islanders team? Really?). It has nothing to do with Marty Turco leaving Dallas (oh, we'll get there tonight folks, we'll get there). It really has to do with the fact that the Stars are once again outscoring opponents. Yep. We're still gonna suck, but let me relish in the glory knowing that we are better than 26 other teams. Let me repeat that, because unless we time travel back to 98, 99, or 2000 I can't make this claim: WE ARE BETTER THAN 26 OTHER TEAMS. Don't freak out too soon though. The Leafs are after all tied with us, and we all know that's a mistake. Commence the realistic meltdown now. Stick around for a new weekly feature at the end of the post, as for now, onto tonight's facts:
- Speaking of the Stars, is anyone else, aside from
Tom
, as disappointed as I am that when it got down to Ribeiro at the end of the shootout, that he wasn't given the green light to let loose some horrifically cheeky move? We lost a ton of shootouts last year, and this man just needs a green light to be an effective shootout winning dick.
- I know everyone saw the Kovy/Green fight that was almost as bad as Semin's "playing the bongos" fight last year. The biggest thing I noticed during the commotion was Caps players willing to step in, and Devils players realizing "um, if one of us gets hurt, we don't have anyone we can call up." Truly a smooth move Lou.
- How many people expect Derek Stephan to dominate the waiver wire on fantasy leagues tonight. Let me just remind everyone before placing their claim that Aaron Voros and Brandon Dubinsky once dominated for the Rangers at the beginning of a season. Best to claim him and then sell high. That's what I did once with leading goalscorer Steve Reinprecht after 7 games.
- Did the Islanders take lessons from Sidney Crosby over the summer? The only time I've seen more flopping around like something dying is the last time I went fishing.
- Slightly late, but you know it's gonna be a fun year in Edmonton when your TEAMMATES are
bitching about a goal
you scored in your first game. Good job Jordan Eberle, though the biggest ego in the entire video has to go to Taylor Hall for expecting everyone to just swoon over him. (P.S. I don't care that it's a tongue-in-cheek spoof. I expect Taylor Hall to be that much of a douchebag)
- Perhaps the greatest thing I saw all night was the Kings trainer picking up Kopitar's teeth, shaking them in his hand like they were dice, then skating back to the bench like nothing ever happened. I hope he rolled snake eyes once he got back to the bench. No one should be that happy about picking up someone's teeth.
- Did anyone else hear Drew MacIntyre was called up from the AHL for the Thrashers? I hope Vince McMahon didn't have a part in this.
Yep, this guy isn't going to faint in net, he's going to DDT your head in.
- Matt Carkner needs to...you know what, I drafted Matt Carker, so win or lose, as long as the idiot can still stagger into a fight after taking a Colton Orr pounding, I'm actually ok with it. Good job Matt, keep up the good work!
- Marty Turco. I told you it was coming. You knew it was going to be mentioned at some point. I just need to point something out here. Way back in early August I mentioned something:
Apparently I mentioned it a bit too soon. For those wondering about the wonderful and amazing Marty Turco and how AWESOME he was going to be behind a defense that could actually play, let's examine some numbers real fast. With the Dallas Stars in 09-10 he had a .913 save percentage that was deemed horrific, he current has stopped 62/69 shots for a .898...hell, let's round up for the man, a .899 save percentage for the Hawks. Betcha wish you had a defenseman that would block a puck with his face now, wouldn't you Marty?
- How does one give up 4 goals to the current roster New York Islanders? That's like having enough confidence to spot the special education kids an h, o, r, and s in a game of HORSE. Then again, we are talking about the same team that signed Andrew Raycroft as an insurance back-up goaltender, and then they don't even play him on a back-to-back game when the starting goaltender has a major injury history. All we need is some high level exec to die and they automatically receive the Darwin Award.
-
NEW FEATURE TIME
! We should be rolling out with a couple of these lately, especially since this "2 posts in 2 days" thing is not going to keep up. There is only so much access to hockey with my insane job, and I'm likely not going to get this much exposure. That said, I wanted to pay homage to one of my favorite football humor blogs,
Kissing Suzy Kolber
, where they do a "Meast of the Week" in addition to a "Least of the Week." Obviously in hockey it's a little harder to judge things on a per-week basis, but I am going to do my best. I believe one of the fantasy leagues I'm in rates players on a weekly basis, so I will go off their time-line and their stats. However, just to spice things up, we're going to give names to these awards. Since it's a Stars themed blog I have to stick with it and Your "Meast of the Week" will officially become the "Brad Richards Wanna Be" award. Before you laugh, please realize Mr. Richards is officially your league leader in points. Plus the guy scored 5 assists against the current Stanley Cup Champs in his debut with the Stars, so if you disagree with the name, go *censored for the youngins* yourself. As for the "Least of the Week," well this was much harder. As you should know there has been much failure in the Stars organization. Tom Hicks comes to mind at the moment, but then I thought back to players. Shawn Chambers was a great player, but Mario Lemieux turning him into a pylon during the cup finals is a league-wide memory. I wanted something bigger though. Something 197-foot-Toskala-esque. Then it hit me. So ladies and gentleman, I present to you the official "Patrik Stefan 'I didn't do that'" award. May they both be bestowed upon some truly great players in the near future.
As always, feel free to leave your comments, hate mail, and bottles of vodka (I really write better when under the influence), or just stalk me on Twitter , because what better things do you have to do while at work?